NEWSLETTER
March 2012
In This Newsletter....
SPRING SALES PROMOTION : Earn Points and Win "Central Festival" Vouchers

BRITISH INTERNATIONAL SCHOOL : Standardising on the MacBook Pro laptop

OUR SUPER SEVEN : Part 5 Telephony Systems

ISLAND TECHNOLOGY GIRLS : Charity Football Match

NEW PRODUCT NEWS : WiFi to Every Room with NO Additional Cabling

SPRING SALES PROMOTION
During the 2 months to the end of 2011, we are offering great pricing on our Intrusion Systems and Fire Detection Systems.
At the end of the promotion period (30th April) we will work out all the points you have earned and convert them into Vouchers for Central Festival, Phuket.
Then it's up to you to spend your vouchers on whatever you like !!
1 Point will be earned for every 10,000 baht spent with us for all purchase orders signed during the promotion period. For every 10 points we will give you a Voucher to the value of 1,000 baht.
* The promotion does not apply to monthly internet charges or monthly maintenance agreement fees or educational apple pricing.


EARN FREE VOUCHERS FOR.......
BRITISH INTERNATIONAL SCHOOL
STANDARDISES ON MACBOOK PRO LAPTOPS
The British International School (BIS), Phuket has recently taken delivery of the first batch of MacBook Pro laptops from Island Technology. With 70 units scheduled for delivery to the teaching staff in the next month, the school has also set the MacBook Pro as the standard for all Year 7, 8 and 9 students, in order introduce a consistent platform for computer hardware and software for all computer users at the school.
Here headmaster Mr Neil Richards recives the first MacBook from our MD Khun Gay, in the company of Mr Simon Meredith (Head of Secondary), Khun Tim and Nigel Wheeler ICT Manager at BIS.
Mr Meredith commented "In order to ensure our students have access to 21st century learning, are competitive graduates and are prepared for a 21st century workforce, it has been decided that the time is right to move to a "1-to-1 Laptop Programme" in the Secondary school. BIS, in conjunction with Island Technology, will supply Apple MacBook Pros for teachers and students. This is an exciting and new technological development for us and we look forward to the integration of this technology into many classes."
To find out more about Apple in Education click here
ISLAND TECHNOLOGY'S

SUPER SEVEN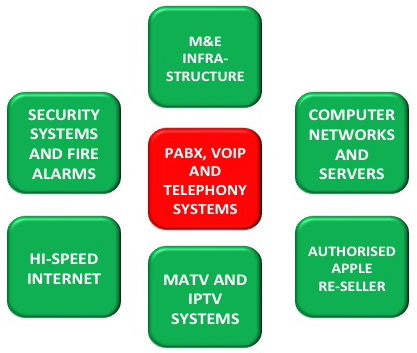 TELEPHONY SYSTEMS
Number 5 in our profile of the 7 key business solution products available from Island Technology
We specialise in the installation and support of advanced technology communications systems. High capacity PABX systems for commercial enterprises, hotels and educational establishments offer sophisticated technology to manage and control voice and data telephony.
More and more users are adapting their long-distance and international calling protocols to make use of the many internet-based facilities - and we can help you choose and implement the VoIP (Voice over Internet) products to reduce your call charges and take advantage of the best sound quality products and reliability.
Contact us to see how we can help your business
The Island Technology girls football team showed off their fancy footwork recently at a charity football match against Thanyapura Sports and Leisure Club. Both of these highly-trained and skillful teams battled it out under the late afternoon sun to take honours as the winning team. Unfortunately for our girls the Thanyapura girls' sporting prowess stole the day and we gracefully accepted 2nd place.
The event raised worthwhile funds for the repair and renovation of the local school for Thai students (Baan Pa Klong Cheep), located close to Thanyapura. Well done and thank you to all the players, supporters and organisers.
Watch out Thanyapura Girls, next time ..........
NEW PRODUCT NEWS
INTERNET TO ALL YOUR HOTEL / CONDOMINIUM ROOMS
WITH NO ADDITIONAL CABLING
NO NEW CABLING
|
LOW COST OF INSTALLATION
|
REVENUE SHARING FOR GUESTS' INTERNET USAGE
We keep IT simple